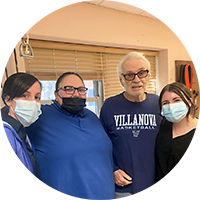 "I went to Bryn Mawr hospital after having a fall and they had suggested physical therapy to build my strength back up. I love the staff at Springfield. They are all so kind and welcoming. The therapy staff have been very caring and helpful in getting me walking again. Springfield will be the first place I will come to if I ever need therapy again!"
– Jack Keefe
---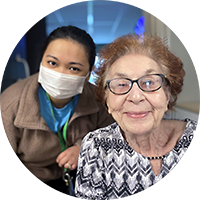 "I came from Riddle Hospital to heal after falling and fracturing my femur and hip. When I arrived at Springfield, I wasn't able to do much physically to help myself, but soon the physical therapy team assisted with being mobile again. The staff were kind and friendly, the activities department always had something to do each day to keep me moving, and the food here was delicious. I very much enjoyed my time here!"
– Anonymous
---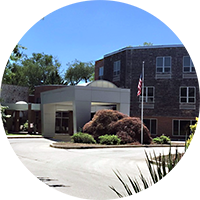 "I came from Crozer Chester after having a fall, leaving me incredibly weak. I greatly appreciate all aspects of this center. The entire care team, from therapy to nursing to activities, have all worked together to get me back on my feet. I feel they truly rehabilitated me and I feel better than I have in a long time! Something I am especially thankful for is the activities with Chevy and Imani. They do a good job getting us up and moving and entertained daily. I'm so thankful for every team member here. "
– Beverly Miller
---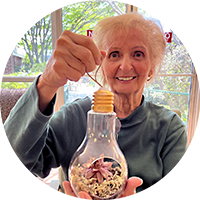 "I came from Taylor hospital after having a stroke that left me unable to move. PT has done a really good job helping me gain strength back in my body. Now I am able to stand, walk, and go up steps with little assistance. I'm excited for the future, thanks to the staff. I can't thank the CNAs Diane and Rosalyn enough for their kindness to me and for how they always tried to lift my spirits!"
– Nancy Morrow
---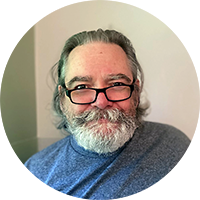 "I came from Taylor hospital after having a car accident and needed to work on improving my balance and mobility. I worked mainly with Shane and Jim from PT. They were very encouraging with having me work towards my goals. I'm very appreciative of them. They had me doing walking and step exercises, helping me get back to moving more independently again."
– Donald Blank
---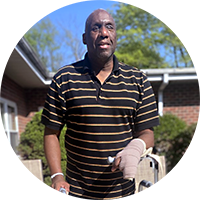 "I came from Crozer after being hit by a car, leaving me in really bad shape and unable to do much of anything. I am thankful to everyone in this building for how much they helped me. My goals with PT were to restore strength back in my body and they did just that! They had me using the weight ball to improve arm strength, the bike machine to work on leg strength, and many other exercises to help me become more independent. The food here was so good. I couldn't get enough, so props to the Chef in that department. The activities department was very fun as well.  I really enjoyed playing Family Feud and trivia games. A big highlight from them was when they had a bouquet arranging activity.  It was a joy always having something daily to look forward to with them. Overall, I'm happy with my time here and thankful for what they've done for me."
– Eric Wilson
---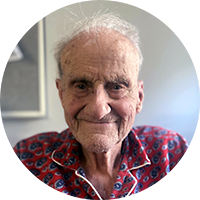 "I came from Crozer after having a fall and experiencing weakness in my legs. The staff here was very helpful in building strength back in my legs and gaining mobility again. I am very happy to have come Springfield and will recommend to others!"
– Fiore Peticca
---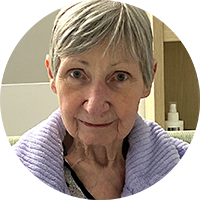 "I went to Riddle after having a fall and needing stitches. I had hopes in coming to Springfield Rehab to build my strength, recover from my injuries, and walk again. The physical therapy staff was very supportive and helped me reach my goals of being independent again. Thank you Jen from PT for being so kind to me during my stay!"
– Margaret Shivers
---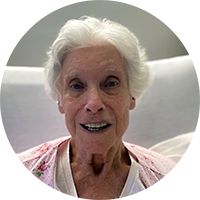 "I came from Bryn Mawr Hospital after having a fall and fracturing my fibula. I have been making great progress with my physical therapy. The exercises they have me participate in are fun and I especially like using the exercise bike! I also enjoy the activities team, Chevy and Imani. They come up with such fun things to do such as painting and crafts. Overall, I love being at Springfield and the kindness the staff members have shown me!"
– Natalie Allen
---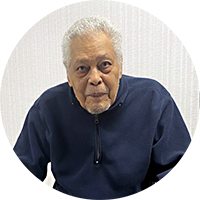 "I was admitted to Mercy Fitz with a diagnosis of sepsis. When I transferred to Springfield, I was unable to do much without assistance. My body felt very weak. The exercises the PT staff did with me built my strength back to a point that I didn't think would be possible for me again. I'm now able to be much more independent with little need of assistance. The staff has been such a big help and I'm so thankful!"
– Rudolph Pook
---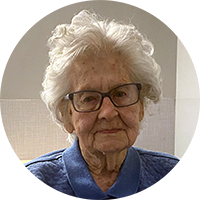 "I came from Lankenau Hospital after having a fall at home, breaking two bones in my hip. I feel a lot less pain now and I am able to use a walker again! I worked on stair exercises with PT to gain strength and feel much more confident. The staff here were very kind to me during my stay and I'm thankful for the time I spent at Springfield."
– Evelyn Bennett
---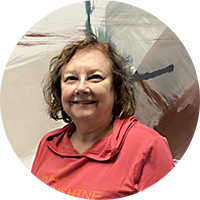 "I came from Jefferson after having surgery on a broken femur from a fall. I set goals for myself during PT and OT to improve my walking, stability, and gain strength overall. The staff in the therapy department has been great and helped me get back to how I was moving before having the accident. I'm thankful for Gabby and Shane from therapy for keeping my spirits high during my stay!"
– Linda Carney
---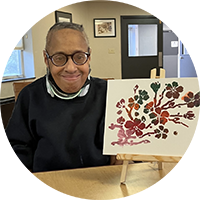 "I've been very happy with my time here. Everyone has been very kind to me. I love that they have something to do every day with activities, so it never gets boring!"
– Sheila Williams
---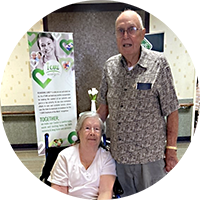 "I came here to regain my strength after getting Covid. I am very happy with how well my stay went. My wife has been a resident at Springfield before, so when I needed therapy, I trusted coming here for myself. The staff is excellent! They always assisted when needed, the food was delicious, and the therapy was fantastic. I feel back to my old self again and I am very thankful!"
– Stanley & Janice Sadowksi
---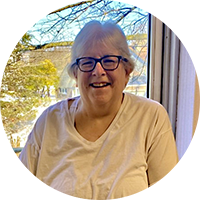 "I came from Riddle Hospital to recovery after having a pulmonary embolism. I wasn't able to do much when I was first admitted to Springfield. I couldn't walk or speak, so my goals for myself were to improve in those areas. Speech therapy was able to help me start talking again within a couple days! Physical therapy was just as excellent and helped me get movement back in my body. The best part was when I no longer had to use my BiPAP as frequently!"
– Joan Suhanick
---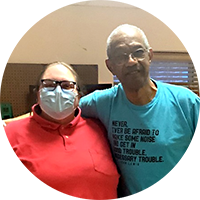 "I came here from VA hospital after getting a total knee replacement. I came with a swollen knee and was unable to walk much. My goals were to heal and be able to walk again, and now I'm able to move around without need of a walker.  I did better than I anticipated for myself! I am so happy with how hands on the therapy staff was with my care. They are fantastic! They truly put me to work and had me use all the equipment in the gym. Sam, Jim, Shane, and the rest of the therapy team were excellent and I'm thankful for them."
– Thurston Kinsey
---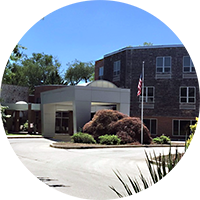 "I came from Penn after having a liver infection and needed PT to get stronger. I worked with Jim and Alex in therapy, and they were wonderful help! They had me work mainly on strengthening my legs by using the stairs, the bike, and walking exercises. My goal was to be able to walk 18 steps and I was able to achieve that thanks to them! The therapy here is excellent. The staff is really attentive and constantly will find ways to help, no matter what the issue is, big or small. Overall, it has been a pleasant experience."
– Bernard Orenski
---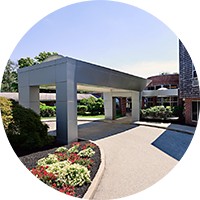 "I came from Mercy Fitz for physical therapy after experiencing weakness and heavy fatigue. My goals for myself were to be able to walk steady and to strengthen my legs, which I have attained! The therapists here are the height of professionalism. I worked with Alex and Jim in PT they were great. I love how much they drive me to do work and push me to do well for myself. Outstanding staff members that also took good care of me are the CNA's Roslyn and Diane."
– Rosemary Patrick
---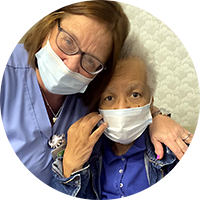 "I came here from Crozer for P.T. I worked on walking, balance, and strength building in my arms. What helped most during this hard time and who I am most appreciative of, are the members of nursing who were kind, and friendly. I am very happy with the staff members, Dennis, Cindy, Roberto, and Kiarra for always put a smile on my face."
– Marie Randall 
---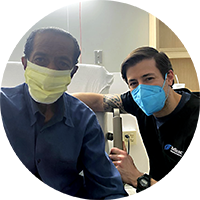 "I came from Lankenau Hospital after experiencing a lot of bodily weakness after a fall. P.T took great care of me. Thanks to them I feel like I've made great progress with my mobility and balance. Very happy with my experience and I feel the staff has set me up with the steps to succeed further. I'd like to specifically thank Alex and Stephanie from therapy for being extremely motivational during this time."
– John Wescott
(Pictured with Alex from PT)
---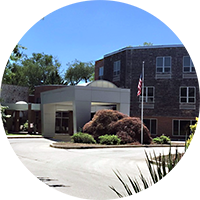 "I had a positive experience at Springfield. The nursing staff was the highlight of my stay. The nurses, Roberto, Bobby, and Imen were a joy. I came here after getting Covid and needed some PT to get me back on my feet. The main things I needed to work on were my balance and walking. A personal goal of mine was to be able to walk half a mile a day, which now I've been able to achieve. I'm thankful for Jim from therapy for reaching my goal!"
– Father Richard Nahman
---
"I love therapy especially Olaunde, the therapist. Everyone here for the staff is very nice. I'm getting great care here and my room is clean and comfortable."
– Fredrick Essery
---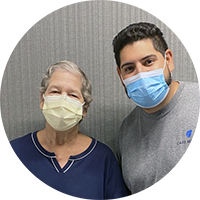 "I came from Penn Presbyterian after I went in for a cauterization and ended up having a double bypass. I needed to work on my movement mainly, and the hospital suggested Springfield Rehab. The nurses and therapy team have been great! Even the activities assistant, Imani, was so uplifting during my stay and consistently came in to talk to me and just check in to see how I was doing. Therapy has been the highlight of my stay. My physical and occupational therapists have been wonderful and have given me the tools to be more mobile and to get to where I need to go. I'm so thankful, I'm able to walk without a walker and get up on my own now. I feel a lot more independent after coming to Springfield."
– Laura Rutter
---
"I enjoyed my time at Springfield and was moved by the kindness that the staff had shown me. I came to Springfield after being at Riddle. I had a stroke and took a fall, breaking my femur. I needed therapy so I could move better. I found the building beautiful and it was nice to see the work they have been putting into it and the improvements they've made. I enjoyed the therapy; I am feeling better now. The therapy team was encouraging and helped me so much. The nursing staff were always attentive and kind. Fran, my CNA, was the best during my stay and stood out above the rest! I would absolutely recommend Springfield. The staff are great and the building is like no other."
– Barbara Mattia
---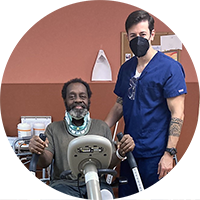 "When I was at HUP they suggested I transfer to a skilled nursing facility to work on my left sided weakness. I wasn't able to get out of bed at the hospital, so much so, that they started me on blood thinners. I didn't want to be poked in the stomach every day, so I knew I needed to go to rehab and get moving. When I got to Springfield, I was so weak and in so much pain. I couldn't move my entire left side, not even my neck from side to side. I would get sharp shooting pains from my foot all the way to my neck. It was so bad I would have tears. But I've come so far here in the past few weeks, and it's all thanks to the therapy team here. They are wonderful, every one of them. I've had my pain managed and been able to progress so far. I can actually tolerate a lot more activity, especially on my Left side. I am able to do things that I haven't been able to do in a while. The physical therapy gets me up and moving, they take me to the gym to do the stairs and the bike, and even outside for some extra exercise. When I got here, I couldn't get out of bed, now I'm able to walk outside, down the driveway and back! I even go down to the gym just to practice on the equipment in my free time. The therapy team calls me their model resident. I may need to have surgery on my back in a few months, so you'll be seeing me again!"
– Freddrick Grayer
---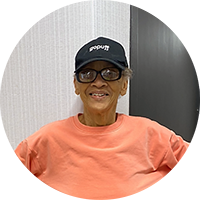 "It has been a blessing here. I will come back if I ever needed help again! I was brought to Springfield from Crozer Hospital after I fell. I fell while moving a shopping cart and ended up breaking my rib and pelvis. I enjoyed the therapy here and the recovery process has been great. Everyone was fantastic, such a great staff! I'm happy they were the ones taking care of me."
– Beverly Pane
---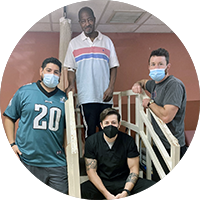 "I came to Springfield after suffering a stroke. I was scared to death. I have a total of 30 steps to get in my house. It was no big deal when I was in great shape, but after the stroke I was terrified. My friends and I are amazed at where I was and how far I've come since starting my rehab journey began. Hands down, therapy has been my favorite part of my stay, they are such a great crew. They work together as one team, all the different therapists, to make sure you're back on your feet again and confident. Shane, Jim, and Alex were fantastic. They really worked me into shape. They pushed me on the bike, the parallel bars, and what I needed the most, the stairs. They also took me outside for my therapy sessions to walk up and down the hill, this was a good indication of if I could tolerate the steps at home. I joked with the therapy team that I would absolutely recommend Springfield, but I don't want to come back and the said they loved having me but didn't want to see me again either! "
(on photo: James Eatons ft Shane, Alex, Tim from therapy)
– James Eatons
---
I would recommend Springfield Rehab to anyone in need…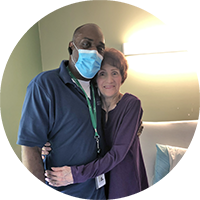 "My entire experience at Springfield Rehab was great. As soon as I got there Lamont helped take me to my room in my wheelchair and was so kind to me from that day forward. Cindy, Debbie, and Brittany took great care of me during my stay and Dennis in maintenance was friendly. The building was very nice, and my room had a great view. I loved watching the deer outside each day. The therapy staff were great too! Now I can walk farther without being afraid of falling. I can even go up and down that stairs now with confidence which I wasn't able to do before. I would recommend Springfield Rehab to anyone in need because of the physical therapy and the friendly environment!"
– Diane Jackson
---
I would definitely recommend Springfield Rehabilitation.
"I was at Mercy Fitzgerald Hospital for my emphysema, I was having a hard time breathing and was very weak. I was on a ventilator for a week. I needed rehabilitation before going home so I chose Springfield Rehabilitation. When I got here, I had to strengthen my arm and leg muscles, but I also needed to work on my lung strength. Diane, from nursing really helped make the transition easier. She is spectacular, I would give her an award. I know the food isn't always good in places like this, but the food was great here. The people in the kitchen were attentive and made any changes I asked for. Housekeeping was always moving and kept my room very clean. Therapy was fantastic too. I definitely saw a good deal of improvement with therapy. Gabby, Renee, Sam and Jim really looked out for me. I would definitely recommend Springfield Rehabilitation."
– Randolph Brown
---
Therapy has been going great!
"I would definitely recommend Springfield Rehab to anyone in need. I was at home and started having more and more trouble walking. I had heard good things about this place from church and now that I was in need of help I knew it was where I should go. Therapy has been going great! I love going tot the gym and feel myself getting stronger each day. The people here have been very kind to me, but my therapist Shane stands out the most. I think that anyone that needs some therapy should give Springfield Rehab a try."
– Delores Luty
---
The care is exceptional, and the staff is so kind.
"Was at Taylor Hospital to get treatment for my infected foot. I needed IV antibiotics and couldn't manage home alone. I decided to come to Springfield Rehabilitation. Everyone has been so helpful. My roommate was quiet but very nice. I'm feeling much better now that I'm done treatment. I'm even able to walk on the foot I had surgery on much sooner than I expected. The nurses were so patient, and they knew exactly how to care for my wound. Fasha, Kim and Dawn really stood out from the nursing staff. The therapists, Sam and Shane got me up and moving again safely. I would definitely recommend Springfield Rehabilitation. The care is exceptional, and the staff is so kind."
– P. Davidson
---
The Staff at Springfield Goes Above and Beyond!
"I have an incredible level of respect and appreciation for the staff at Springfield Rehab. I admire the work that they do and the way they do it. I have a special appreciation for the dietary staff. The kitchen staff are very accommodating and constantly go out of their way for the residents. For example, Chris from Dietary comes outside every day to water the plants. I thought to myself, "look at this kid, he really cares about this place." Obviously, that's not his job, but they are constantly going above and beyond, not just for the residents, but for the facility. You can ask them for anything, and they help right away. Overall, the food was good, and if there was something I didn't like, they would accommodate me without a problem. They are some of the most compassionate and pleasant people I've ever met."
– David Goldstein
---
I HAD A POSITIVE EXPERIENCE AT SPRINGFIELD REHAB!
"I transferred from Jefferson Hospital to Springfield Rehab after having back surgery. My family and friends suggested Springfield to me, and I had visited the facility previously. My good friend was here and when I came to visit; I was very pleased with his care. Overall, my experience was consistently positive. The Nursing staff have been very patient and have answered all of my questions. You can tell that they are authentic, they truly care. From day one, each little step was encouraged by all the staff; Nursing, the CNAs, Therapy, Social Services, etc. Imani and Free always encouraged me with a deep smile. Kamisha was great; she challenged me in physical therapy but was also my biggest cheerleader. Every day was another step for improvement!"
– Sandra
---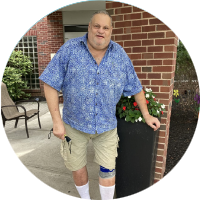 "I dislocated my shoulder at home and was sent to Bryn Mawr Hospital. The doctors had suggested after my procedure that I pursue inpatient therapy before going home. I had been to other facilities in the past, but I wanted to be closer to home this time. I'm from Havertown and worked on the Mainline when I was younger, so my wife and I decided that Springfield was the best choice as she would only have a 10-minute trip to home see me. Therapy was FANTASTIC. I came in for my shoulder, but my balance wasn't great before I went to the hospital. Now I can get up without my cane and walk by myself without any help or fear of falling! Therapy welcomed my wife to my treatment sessions so I could show her how great I was doing.
My favorite part about Springfield was the large common area for activities. The activities staff encouraged me to attend activities, which helped me make friends and relieved my anxiety. It feels good to have people that want you to be a part of something. Whether we are painting, making a bracelet, or drinking coffee together it is more than just an "activity," it is time spent with other people. A HUGE thanks to the girls in the activities department; Deb, Anna, and Sarah for spending that time with me. The staff are friendly and accommodating. I had some days where my anxiety and the pressure I put on myself would get the best of me, but my nurse, Imen, was always there for me. One particularly bad day, she came into my room, held my hand, and calmly stated, "I don't like seeing you like this"; I instantly felt better. I have been to facilities before, and no one has ever done that for me. No other facility has ever cared to console me. She is by far the best nurse I have ever met; she really cares about her patients and about people.
I've been to other facilities in the past, but I have to say, Springfield is by far the best experience I have ever had. I would recommend Springfield to anyone that needs rehab!"
– Fredric Ziegelbaum
---
SPRINGFIELD WAS THE PERFECT LOCATION FOR ME & MY FAMILY!
"I knew I wasn't feeling well at home, but I really did not want to go to the hospital. My son, the poor thing, was desperate to help me the best he could, but I was barely eating and getting weaker and weaker. When I fell out of my bed, that's when my kids said "It's time to go." By the time I got to Crozer Chester, I was so dehydrated and malnourished; I couldn't even swallow! Even though I really wanted to go home, the social worker Theresa convinced me that I would benefit from therapy. Springfield was the perfect location for me and my family. Being from around this area was an easier and a closer commute, so my family could visit me.
When I arrived at Springfield I couldn't walk, or stand, let alone roll over in bed by myself. Over time, working with the therapy team, I've come so far. I am so much stronger! That is a huge thanks to Tina, Jason, and especially Sam. They've really pushed me to get better. Overall, the staff at Springfield have been good to me. They are pleasant and very personable. I feel like they've made an effort to get to know me. I would of course recommend Springfield!"
– Yvonne Crawford
---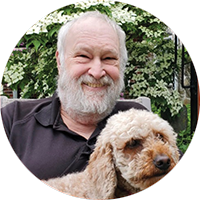 MY EXPERIENCE WAS DELIGHTFUL!
"I am a Wallingford resident who came to Springfield Rehab from Riddle Hospital. I needed to wear a cast for several weeks and was not able to do the things I needed to be independent. PT was a great balance between aggressive and compassionate. They really helped me progress with becoming independent and navigating steps. I am very impressed with everyone there. Despite the Covid restrictions, there was not a day that went by that Activities didn't offer their services. The nursing staff was such a great help. Diane, Nancy, Alice, and Cindy were so nice to me. They even helped me call the kitchen to get alternative food selections if I did not want was on the menu."
– Richard House
---
Improving Your Health in a Comfortable and Caring Environment!
"I came to Springfield Rehab from Lankenau Hospital Covid positive. I spent the first half of my stay in the Covid Unit at Springfield, where I began my recovery and physical therapy. I've thoroughly enjoyed my stay. The staff, including the doctors, nurses, and CNAs have all been extremely friendly and interested in my care needs. I've especially felt supported by the rehab department, which has assisted me in reaching my set goals. I recommend Springfield Rehab to anyone who is interested in improving their health and doing so in a comfortable and caring environment."
– Emma Chappell
---
I've Truly Enjoyed My Time Here!
"I've had so much fun with everyone at Springfield! The staff goes above and beyond, and you can tell how much they care about what they do and who they take care of. Every concern or worry was promptly addressed. I've truly enjoyed my time here. There are several staff members that have a special place in my heart. Beverly in Housekeeping, my angel, who has constantly encouraged me. Abe, Administrator in Training, who has eased my anxiety from my very first day. Dawnmarie and Kenyatta, in Nursing, who have made me feel so well taken care of and safe. Kenyatta has a beautiful soul and constantly went out of her way to ensure my stay was perfect. I will miss everyone at Springfield!"
– Maria Pennestri
---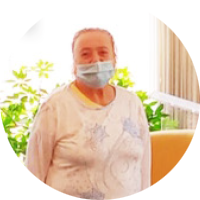 "I enjoyed walking and exercising with my physical therapist. We made it fun by laughing and singing. I am feeling so much stronger and confident now with walking than I was before I even came in. My nurses were amazing. They were very nice, caring, answered all my questions, and were very helpful. I also loved my meals – they were delicious. I would recommend Springfield Rehabilitation to my friends and neighbors."
– Marie Villano
---